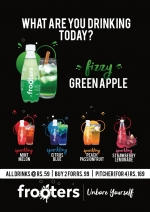 Ankur Gattani
CEO at Frooters Innovations Pvt. Ltd.

https://www.updazz.com/r/25861-ankur-gattani
Frooters Innovations is a new age beverage startup with strong in-house formulation expertise and with a range of innovative sparkling fruit drinks from green apple fizz to imli masala soda to bubblegum mojito. A team of IITians, bartenders, mixologists and flavor experts passionate about bringing to consumers the best tasting drinks in a bottle. An office that's a mixology bar cum a flavor lab, every-day is an exciting one.
---
Jobs posted