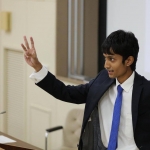 05/11
Saravanan Balakrishnan
Head - Talent & Finance at White Panda
Views:176 Applications:68 Rec. Actions:Recruiter Actions:32
White Panda - Content Editor (0-4 yrs)
About us:

White Panda as a platform offers a convenient content creation process to Digital Agencies, Brand-turned-Publishers, SAAS companies and E-commerce platforms without the need for micromanagement.

Being built with a model based on Language, Human Resources and Marketing, the company works with thousands of content creators to power content marketing for hundreds of leading brands. Some of our notable clients include Radisson, Apollo, Axis Bank, PNB Housing, three of top 10 marketing agencies in India, and so on. The venture is funded by highly successful entrepreneurs, Tier-1 investors, and IIT Gandhinagar; and White Panda is also cash flow positive.

In the outset, the purpose of any content is to educate or entertain. We aim to have an impact on end consumers by elevating the quality of Education/Entertainment by partnering with 40 Lakh businesses globally.

JD - Content Editor

The Content Editor's day-to-day responsibilities include

1. Understanding the elements of content marketing and developing content accordingly

2. Creating thematic blog articles and posts for our community

3. Coordinating with the core White Panda team and the writer community

4. Proofreading/editing all content pieces for accuracy

5. Checking for plagiarism, grammar, word count, spell check, and keyword density

6. Understanding the target user persona and incorporating editorial changes accordingly

Job Description:

- A Content Editor is a professional responsible for the company's daily editing of content created by the writers.

- We are looking for a skilled Content Editor to manage our content through the production process to ensure that content meets the subject matter / intent of the content generated.

Responsibilities and Duties :

- Perform proofreading procedures and edit copy when necessary

- Work to revise and polish scripts to a high level of quality.

- Ensure if content comply by the initial outline and title of the content

- Ensure if the subject matter in the content is correct

Oversee and review copyedits.

- Ensure if the internal standards are followed

- Evaluate finalised copy for compliance with policies, style and tone

Required Experience, Skills and Qualifications :

- Previous working experience in an editorial/content creation space

- Engineering Background Preferred

- Exceptional ability in editing

- Speed reading Skills along with comprehension ability

- In-depth knowledge of WordPress and SEO concepts

- Excellent organisational and time management skills

- Outstanding communication (Written & Oral)

- Highly detail-oriented, Adapt to changing priorities and a lot of moving parts.

- Outstanding interpersonal skills, including the proven ability to work across different audiences, personalities and experience levels.
Add a note
Something suspicious?
Report this job posting.