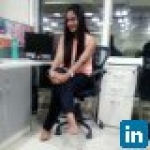 28/10
Anushka Manikoth
HR Recruiter at Smarte Solutions Pvt. Ltd.
Views:118 Applications:37 Rec. Actions:Recruiter Actions:1
SMARTe - Manager - Product Marketing (8-12 yrs)
Job Title: Product Marketing Manager

Department: Marketing Team

Job Location: Vashi, Navi Mumbai

Role & Responsibilities:

Work closely with various product leaders on build and execute a product marketing strategy, facilitate new processes, tools, training and methodologies to strengthen market penetration and client acquisition. End to End event management, right from talking to vendors, negotiating and responsible for lead generation at events.

Product Marketing -

- Own complete product from concept, marketing requirements document (MRD), Product Requirements Document (PRD), competitive analysis, positioning, promotion and pricing.

- Develop product positioning and messaging that differentiates our products in the market. Industry/solution specific messaging and Campaign Messaging for mass marketing and Account Based Marketing Programs

- Continuous analysis on competition, and the B2B space including customers and prospects

- Conduct monthly trainings for Sales on SMARTe's products and services

Internal & external content management :

- Owner of all content assets - Creation of new, repurposing and reuse of content such as case studies,success stories, product sheet, service description, sales pitch decks,
internal bulletins, press releases, articles, competition, infographics, videos, screen casts, audio, testimonials, articles, white papers, Blogs etc.

- Create outbound messaging to communicate product to marketplace (features, benefits, release timing, pricing, how delivered, etc.) Serve as required as the primary point of contact for industry analysts and reporters, speak at related conventions and trade shows etc.

- Tradeshows and events :

- Set guidance for major tradeshows and events that SMARTe sponsors and participates in.

- Responsible for supporting Road shows, Webinars, product launch etc. with Creatives like Infographics, Event booth, standees, banners, backdrops, fliers, brochures, digital posts, e-newsletters, sponsorship design, gifts.

- Lead Generation through Events, Webinars etc. with significant ROI.

Sales Enablement :

- Responsible for the creation of collaterals and sales enablers (Web, Presentation, Demo CDs, Screen Shots).

- Sales Team Training - Communicating the value proposition of our products to the sales team and developing sales tools that support the selling process of our products (decks, case studies, competitive guides), sales play books etc.

- Partner marketing: Align with partner/alliance team on the strategy and set guidance for co-marketing with strategic partners to source and influence pipeline. Plan, execute and track cross-channel marketing initiatives for brand impact and pipeline growth designing innovative promotional campaigns / projects to create brand awareness and accomplished brand communication objectives

Social Media/Digital :

- Set guidance and direction for our social media marketing team to amplify our social marketing efforts and closely measure effectiveness.

- Digital marketing & analytical reporting - Social media functionality, blog, SEO/SEM, social media optimization, website enrichment, competition tracking, market measurement and marketing analytics

- Conceptualize and drive the digital marketing programs to create conversion metric strategies, lead generation & social monitoring catering B2B environments

Analyst Relations and Awards :

Find and communicate with analysts in our space, interact and engage them making them talk about our brand in their journals and reports. Conduct inquiry and briefing sessions. Create and maintain the analyst calendar. Locate industry awards to nominate SMARTe's products and services.

People Management and Development :

- Strong people management and relationship-building skills with ability to operate at most senior levels. Adept at influencing and aligning teams to make things happen, building trust and collaborative relationships, knows self deeply and creates teams to complement own strengths

- Develop and build team to support a vibrant - One Team- marketing culture.

A Little More About You

You are creative and detail oriented marketing professional who wants to take ownership of a brand's success. You have had success in the past and are now looking for an environment where you can take a trusted brand with a loyal following and make it a global phenomenon with frequent travel to US, Europe, APAC.

Work Experience & Domain Knowledge:

- 10 - 15 years- experience in demand generation and overall marketing, including proven success at SaaS or a B2B software company.

- B.E, B. Tech with Post Graduation in Marketing preferred

- Excellent communication and presentation skills and influential speaker

- Proven experience creating marketing plans encompassing strategy, customer research, competitive analysis, product requirements, messaging, pricing, etc.

- Passionate about making a difference, relentlessly seeks out and overcomes major challenges, has real drive and determination, continuously raises the bar and is emotionally resilient, proven track record in delivering to tight deadlines under pressure.

- Create appealing and innovative product concepts and communications, ability to evaluate risk management concepts

- Entrepreneurial thinking, turns strategy into results, measures, manages and delivers performance, always delivers on promises. Excellent analytical and problem-solving skills and the ability to be creative and to - think outside the box- .

- World-class leader to effectively build a team of some of the best marketers in the world.

- Inspirational leader - someone who has - been there, done that- in terms of building and inspiring high-performance teams at all levels in demand generation, digital, and social marketing.

- Compelling storyteller, capable of taking our best practices and techniques and elevating them to compelling stories that showcase our second-to-none expertise in digital marketing.
Add a note
Something suspicious?
Report this job posting.