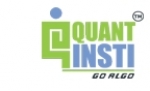 04/06
Ekta Solanki
Manager - HR at Quantinsti Quantitative Learning Pvt Ltd
Views:119 Applications:60 Rec. Actions:Recruiter Actions:23
QuantInsti - Assistant Manager - Customer Relations (2-5 yrs)
Position Summary :

We are in the process of expanding our team and are looking for an enthusiastic individual who brings their existing expertise to our expanding suite of products & services.

Responsibilities :


1-Resolving all customer queries - (technological or financial markets related) on the phone, email, face to face.

2 Continuous learning - Expanding your ability to learn by regularly upgrading your skills and increasing your knowledge which helps you do well.(You will be required to gain knowledge and skills by learning the topics covered in EPAT, write the final exam and successfully complete EPAT programme]

3 Product delivery management - handle clients/students lifecycle management to deliver a quality product.

4 Develop and maintain excellent client relationships.

5 Coordination with different departments and faculty members.

6 Planning and undertaking scheduled maintenance upgrades; responding to breakdowns.

7 Scheduling and supervising virtual learning classroom sessions.

8 Contingency planning - To plan the tasks and activities in your absence and ensuring that it is completed as scheduled.

Requirements :

1 Minimum 2- 5 years of experience, Client Serving, Email support, Chat support and in HNI Wealth Management

2 Possesses strong knowledge of capital markets and management, a strong sense of personal accountability, problem-solving, and creativity, and excellent communication, relationship and organizational skills.

3 NCFM certification in any of the financial markets topic is preferable.

4 Knowledge of Microsoft Office Suite and G-Suite

5 Experience in using LMS & Webinar tools(Cisco WebEx, GotoWebinar, Zoom) will be an added advantage

6 Excellent verbal and written communication skills

7 Agility in learning new applications and tools

8 A multitasker and possess excellent organizational skills.

Fridays, Saturdays, Sundays are mandatory working. Compensatory off would be provided on other days. Work offs will be on a rotational basis based on the requirement

Compensation: INR 5,00,000 - INR 7,00,000 annually.

About QuantInsti :

- QuantInsti- was started in 2010, by the founders from iRage - a leading quant and algo trading firm in India. From its early days focused on bridging the industry knowledge gap in the field of high-frequency trading, we have come a long way in the last decade. Today, we have a user base from 180+ countries with a growth rate much over 50% year-on-year.

- At QuantInsti-, we swear by our goal of revolutionizing the way people approach the financial markets by empowering individuals and institutions with bleeding edge education and technologies. We offer high quality learning experience and best-in-class courses geared towards a global audience in quantitative trading and investing. Our in-house developed technology aims to bring institutional grade tools and platforms to democratize systematic and quantitative trading.

- We achieve this by putting technology at the core of our business. We have a complex ecosystem of microservices and applications deployed over a fully cloud-based infrastructure. Our tech stack includes Node.js, Vue.js, Python and Docker. The team is driven by user experience, with strong focus on delivering scalable software solutions to complex and evolving business goals.

Why you should join us ?

At QuantInsti, we work at the cutting edge of FinTech and EdTech offerings. We work with the newest technologies with a goal of delivering best experience to our users in a scalable manner, with high-performance and availability. If you love to be challenged intellectually, rest assured we have plenty of them for you. We follow an open and free work culture, where you are encouraged to ask questions, learn and teach. We offer a fast-paced environment where you take ownership of what you design and deliver. If you are looking for a move where you will find a reason to wake up every morning and rush to work, come join us.
Add a note
Something suspicious?
Report this job posting.