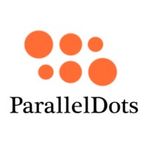 14/09
Ivan Korah Abraham
HR Manager at Paralleldots
Views:86 Applications:36 Rec. Actions:Recruiter Actions:0
ParallelDots - Vice President - Sales (5-8 yrs)
- ParallelDots is a globally recognized leader in image recognition solutions, catering to FMCG companies and retailers. Our cutting-edge technology optimizes in-store execution and maximizes sales for our clients.

Job Description : As the Vice President (Sales), you will play a pivotal role in advancing ParallelDots' growth objectives and aligning with our mission. This position demands a strategic leader who will develop and execute strategies to drive the sales of our products.

Key Responsibilities :

- Proactive Lead Conversion : As a self-starter, your primary responsibility will be converting leads into valuable opportunities. This involves setting up virtual or in-person client meetings and delivering impactful product pitches, highlighting our unique offerings and value proposition in the Retail space.

- Lead Generation : Develop and implement a robust lead generation plan to consistently meet or exceed monthly, quarterly, and annual targets.

- Client Relationship Management : Maintain and nurture existing client relationships while actively identifying potential new clients.

- Cross-Functional Collaboration : Collaborate with the operations, finance, and technical teams to ensure smooth order processing and timely delivery commitments to clients.

- Sales Insights : Attend sales group meetings to provide insights on sales targets and market forecasts, reporting on the current market situation.

- User Journey Insights : Work closely with various functions and offer valuable insights into the user journey and relevant products in the market. This feedback loop ensures we continually enhance our product offerings based on customer input.

Requirements :

- Experience : Total of 5+ years with a minimum of 2-3 years of experience in building relationships with Indian businesses, particularly SMEs.

- Visionary Mindset : Possess a visionary mindset with the ability to spot and capitalize on market trends.

- Track Record : Proven track record of driving revenue growth in a competitive market.

- Leadership Skills : Display strong leadership qualities and the ability to lead and inspire a dynamic team.

- Location : Must be a resident of Gurugram, Haryana.

- Join our dynamic team and play a key role in driving ParallelDots' success by capitalizing on market opportunities and delivering exceptional results in the Retail space.
Add a note
Something suspicious?
Report this job posting.