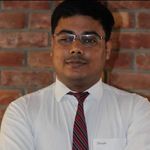 08/07
Keshav Kumar Mishra
Director at Agumentik Consultancy Private Limited
Views:11 Applications:2 Rec. Actions:Recruiter Actions:0
Online Bidder - Software Busines (0-2 yrs)
Job Title: Online Bidder (Software Company)

We are seeking a talented and self-motivated Online Bidder to join our software company. As an Online Bidder, you will play a crucial role in acquiring new software development projects and clients through online bidding platforms. You will be responsible for researching, bidding, and securing projects that align with our company's expertise and objectives.

Responsibilities:

1. Identify and research potential software development projects and clients on various online platforms, such as freelancing websites, job boards, and social media.

2. Understand client requirements and project specifications to prepare comprehensive and competitive bids.

3. Create persuasive proposals and bid documents that effectively highlight our company's capabilities, experience, and value proposition.

4. Estimate project costs, timelines, and resource requirements accurately based on client specifications.

5. Submit bids and proposals within designated deadlines, ensuring all required information is included.

6. Follow up with clients to address any queries, negotiate terms, and secure project contracts.

7. Collaborate with internal teams, including project managers, developers, and designers, to gather relevant information and provide accurate project estimations.

8. Stay updated on market trends, emerging technologies, and competitor activities to adapt bidding strategies accordingly.

9. Track and analyze the success rate of bids and proposals, identifying areas for improvement and implementing effective strategies.

10. Build and maintain strong relationships with existing and potential clients to foster long-term business partnerships.

Requirements:

1. Proven experience as an Online Bidder or similar role in a software development company.

2. In-depth knowledge of online bidding platforms, such as Upwork, Freelancer, and Guru, with a successful track record of winning software development projects.

3. Excellent written and verbal communication skills, with the ability to convey technical information in a clear and compelling manner.

4. Strong proposal writing and documentation skills, showcasing the ability to address client needs effectively.

5. Familiarity with software development methodologies, project management frameworks, and industry best practices.

6. Proficiency in using productivity tools, such as Microsoft Office Suite (Word, Excel, PowerPoint) and project management software.

7. Ability to work independently, prioritize tasks, and manage multiple bids and projects simultaneously.

8. Exceptional negotiation and interpersonal skills to establish rapport with clients and collaborate with internal teams.

9. Attention to detail and a results-driven mindset, with a focus on delivering high-quality bids and winning projects.

10. Bachelor's degree in computer science, software engineering, or a related field (preferred).
Add a note
Something suspicious?
Report this job posting.