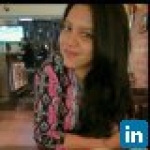 07/02
Sarah Fernandes
Talent Acquisition at Media.Net
Views:150 Applications:46 Rec. Actions:Recruiter Actions:0
Media.net - Performance Marketing Specialist (2-6 yrs)
About us : Media.Net

Media.net is a leading global advertising technology company that develops innovative products for publishers and advertisers. Media.net is among the top 5 ad tech companies worldwide by market cap and runs the second largest contextual advertising business worldwide by revenue. Media.net has 1200+ employees worldwide. Our work spans the ad tech spectrum - search, mobile, display, native, local, video & more. With offices all around the globe, Media.net is both large and small! It's got the culture of a startup with the stability and resources of a larger organization. We have a flat hierarchy, great perks and benefits, and an amazingly progressive culture.

Media.net continuously identifies new market opportunities by creating new products and entering in new strategic partnerships around the world, To fuel the next level of growth, we are looking for rockstar performance marketers who can help us conceptualize, execute, and scale new business bets.

What we're looking for :

A seasoned/experienced PPC/SEM specialist based out of our Mumbai HQ. Someone with at least 2-4 years of experience having worked with fast-paced ad - tech agencies or companies in a dynamic, high-performance work atmosphere.

Roles and Responsibilities :

- The Performance Marketing Specialist will be responsible for working on Multiple AdWords accounts to buy traffic on Search and Display.

- Perform daily AdWords account management for websites/apps targeted to the US, UK & Canada Markets.

- Should be thoroughly proficient and hands-on with every aspect of SEM, Google Display & Re-marketing campaigns

- Understand top-down account structuring: Campaign - Ad Group - Keyword/Ad to maintain excellent account scores.

- Identifying the target audience for a particular campaign & devise the keyword and placement strategy.

- Be well versed with implementing highly relevant ads by creative copywriting, using keyword insertion & ad extensions to improve QS and Ad Rank.

- Be detailed oriented as multiple keyword lists need to be maintained & search queries need to be optimized.

- Daily monitoring & optimization of keyword bids, daily and monthly budget caps, impression share, CTR, CPA, Conv. rates and other important account metrics.

- Provide insights and suggestions to the creative team on copy, graphics and user experience to improvise text/banner ads & landing pages.

- Periodic research on new scaling up opportunities - keyword/search queries, new targeting methods, AdWords beta features etc. to meet periodic goals.

- Generate daily, weekly and monthly reporting for all major metrics, goals, revenue tracking to relevant stakeholders.

- Monitor and administer analytics dashboards, reports and key reporting tools, and point out key areas of importance in accordance to internal revenue goals.

- Crystal clear understanding of ROAS, CAC, LTV, QS, CVR, Ad Rank, Split Testing & Landing Page Optimization.

- Be a thought leader by monitoring latest developments in AdWords algorithms, SEM industry,Competitor landscape and Market trends.

Preferred qualification & Personal traits :

- Proficient in AdWords, Google Analytics and MS Office.

- At-least 2 years hands-on experience in managing Google AdWords with ROI related KPI's.

- Should be AdWords, Google Analytics and Google Tag Manager certified.

- Bachelor/Master's degree in the field of Marketing or Technology.

- Excellent with MS Excel with strong analytical skills and ability to relate results to business objectives.

- Experience with A/B and multivariate experiments.

- Detail oriented and proficient at managing projects and able to multi-task, organize, prioritize and structure workload.

- A highly results oriented, articulate, decisive, self-starter.

- Strong work ethic, the willingness to get your hands dirty, and get stuff done.

- Strong interpersonal, verbal and written skills.

- Previous experience in a similar digital marketing role in e-commerce companies and/or US markets is a plus.

Benefits and Culture :

At Media.Net people love their jobs, and not just because we offer the most competitive salaries in the industry. Our excellent benefits include everything from great medical and life insurance to catered meals. Our workspaces are comfortable and fun, complete with bean bag chairs, ping pong tables, and all the snacks you can eat. We have no dress code (tee-shirts are a-ok!). We have flexible work hours and flexible holidays, which means that teams pick their own work hours. Media.Net has its own concierge desk that doubles up as a travel agency.

We are passionate about building the next generation of contextual advertising products, and we believe that happy employees are the key to achieving this goal. If you like the idea of working in an exciting workspace on cutting-edge internet products that make a truly global impact (and wearing flip-flops to work), then we want to get to know you!
Add a note
Something suspicious?
Report this job posting.