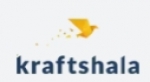 25/11
Divya Varghese
HR Associate at Kraftshala
Views:29 Applications:19 Rec. Actions:Recruiter Actions:0
Kraftshala - Senior Associate/Assistant Manager - Admissions Team (2-4 yrs)
About the Company :

- Kraftshala makes India's most loved marketing & sales training programs with an Advocacy Score of 95%. We believe that education becomes a lot more fruitful, and a lot more fun, when you get kickass practitioners, the real experts, to train emerging talent. Our programs are built on frameworks and examples from the best in the industry and they are consistently updated with the latest, cutting-edge tools & learnings from the field.

- This is why S&M professionals from India's top consumer companies (like Unilever, P&G, Nestl-, Yum! Brands etc) as well as students currently studying in the best business schools of the country find value in our programs (remember 95%?).

- We are a team that is gunning to bring transformative changes to India's higher education ecosystem. Welcome to the ride! :)

Funding :

Kraftshala is backed by Doreswamy Nandkishore (Former Fortune 100 CEO, Head of Asia, Oceania, Africa for Nestl- S.A.), Pallav Jain and Sarfaraz Khimani (co-CEOs of Performics, one of India's largest performance marketing agencies).

What do we value (The Kraftshala Kode) :

Like all good companies, we value integrity, excellence, respect, inclusion, and collaboration. Our team's distinctiveness comes from the following :

- We seek a user centric mindset so that we can Scale with Soul. People who start with the user and work backward, and take every opportunity to add value, even if they have to go well beyond, fit right in.

- We believe speed matters enormously in business, which is why we value people who have a bias for action.

- We are a team of learners who like to observe, read, reflect and seek feedback to be better today than we were yesterday.

- We value problem solving skills. We look at problems objectively, solve for root causes, make decisions for long term good instead of short term gain, and don- t let processes get in the way of value addition.

- We admire people with ambition & courage to take on large goals. We are seeking to build a team of self-starters who demonstrate high ownership.

- We aim for consistency and reliability and expect the same from others. Predictability just makes everyone's life a lot smoother.

- We like people who are real, open and direct in communication, while still being empathetic.

- We are practical optimists. Our team strongly believes in a better future and takes joy and pride in the fact that we are playing our part to make that future a reality.

What is the recruitment process :

As a small team (~35 folks), it's imperative that we get to know each other before taking the leap. We want to ensure you succeed in your role within our team. Each conversation (telephonic/video conference) with us will last about 40-60 minutes. The process will occur over telephonic calls, so you don- t need to worry about travel.

1. Skill Assessment Task : This will be a task that assesses you on the core skills you- ll need to succeed in this role.

2. Technical conversation : This will be a telephonic call with our current Admissions team wherein you can expect to be further evaluated on your sales skills and other competencies needed for the job (mentioned below).

3. Culture fit conversation : A telephonic conversation with our founder to see if there is a fit with the Kraftshala Kode.

4. Extending an offer : If all goes well, we will extend an offer mentioning the relevant details.


Compensation & Benefits :

You should expect 7- 9L INR / annum as your salary, with a 75-25 split between fixed and variable.

You'll work directly with the sales team lead of India's top sales and marketing training platform early in your career.

Assistant Manager - Sales (Admissions) Role Description

What you will be doing :

Our programs receive hundreds (sometimes thousands) of admission enquiries every month. As a member of the admissions team, your key activities include:

1. Counseling : A big part of your role will be helping our potential applicants to figure whether (and which) Kraftshala program will help them drive their careers forward. You will be required to build relationships with working professionals and students, understand their capabilities and underlying goals, and help them navigate the application process.

2. Business Development : Another critical part of the role would be to drive preference for Kraftshala programs by engaging with relevant stakeholders in the industry and B-school ecosystem and developing sustainable partnerships therein.

Must Have Competencies :

- High levels of emotional intelligence, in particular empathy and listening ability

- Willingness to counsel and add value even if the applicant is not likely to become a part of our community

- Ability to impact and convince with speaking and writing skills

- Results focus: The drive to meet targets, follow up proactively, change course when needed and persevere in the face of obstacles.

- Capability to isolate problems and come up with solutions on the go.

Nice to have competencies :

Experience in consultative selling

Location :

While our office is in Delhi, we are on work from home (WFH) till March 2022. We are perfectly okay if you- d prefer to work remotely even after the Covid crisis recedes.
Add a note
Something suspicious?
Report this job posting.