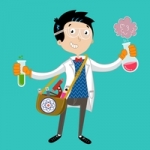 23/02
HR
Human Resources at GyanPro Educational Innovation Pvt Ltd
Views:60 Applications:8 Rec. Actions:Recruiter Actions:4
GyanPro - Graphic Designer (0-1 yrs)
About GyanPro:

We are a STEAM (Science, Technology, Engineering, Art and Math) based Organisation, where we research, promote and teach conceptual learning of Science. At GYANPRO, we believe that Science is the curious consciousness that drives one to re-analyse things that often comes across as routine. Hence we strive to renew and refresh the young minds with the art of Science by utilizing evidence-based instructional practices, connecting in and out-of-school learning, facilitating effective Science communication and mentoring students, we seek to kindle scientific temper by honing reasoning skills and logical thinking amongst children. GyanPro aims to create an experiential Science education program to make learning fun, inspiring and interactive for children.

To know more about our services or work, please visit www.gyanpro.com

We are looking for a candidate for the role of Graphic Designer.

Roles and Responsibilities:

- To visualize graphic design based on the product development requirement

- To analyze and apply graphic designing trends and best graphic designing practices

- Designing Instruction Manual

- To creatively create new graphic designs based on the content description which is visually stimulating for a child

- To prepare drafts based on content description by using the appropriate colours and layouts

- To amend designs after feedback

- To maintain design documents

- To coordinate with Operations team to get the prototype printing

- To maintain print log

Eligibility Criteria:

Preferred Educational Qualification : Bachelor's or Master's Degree in Graphic Design or related field

Preferred Work Experience : 6 months to 1 yrs of experience working as an educational illustrator would be an added bonus! Freshers can also apply too

Desired Skills:

- Hands on experience using CorelDraw, InDesign, Adobe illustrator or similar softwares

- In Depth knowledge of various printing process

Personal attributes:

- Excellent verbal and written communication skills

- Dependable work ethic

- Strong organizational skills with an ability to multitask

- Ability to prioritize amongst various tasks in a deadline driven environment

- Dependable, self-motivated, takes ownership and initiative, collaborative

- Pleasing personality with good personal attributes

- Attention to details

Type of Industry : Education

Company : GYANPRO Educational Innovation Pvt Ltd

Job Type : Full time

Location : Bengaluru

Pay scale : Rs.10,000 to Rs.20,000 per month. Basic pay is negotiable.
Add a note
Something suspicious?
Report this job posting.