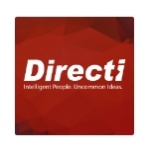 19/03
Janushi Shah
Talent Acquisition Lead at Directi
Views:48 Applications:29 Rec. Actions:Recruiter Actions:0
Directi - Associate - Content Marketing - Radix (1-3 yrs)
ABOUT RADIX :

Radix is the world's largest new domains registry with 10 new extensions that include .ONLINE, .STORE, .TECH, .WEBSITE, .SPACE, .PRESS, .SITE, .HOST, .FUN and .UNO; as well as 1 re-purposed country code top-level domain, .PW. Through these extensions, Radix is empowering business owners to get short, memorable and descriptive domain names that can be used for a website, email address, or a variety of other internet addressing purposes.

Quick links :

- Website: www.radix.website

RADIX' STORY AND PURPOSE :

- Radix was launched in 2012 as a subsidiary of Directi, a $1.4 bn company founded by Bhavin Turakhia and Divyank Turakhia in 1998.

- Back in 2012, it had already become difficult to find short and memorable domain names amongst the available extensions. When ICANN (Internet Corporation for Assigned Names and Numbers) invited the initial applications for new domain extensions, it was a historic moment for the Internet on the whole. It opened a big opportunity to make internet-addresses shorter, meaningful and distinguishable. Radix committed over $30 million on the application of 31 strings comprising several generic and mass-market names. Of those, Radix acquired 7 and since then has attained three more extensions; .TECH (2014), .FUN (2017) and .UNO (2019). Radix is the world's largest new domain registry with 5M domains under management.

- These new domain extensions give an opportunity to users to register a domain name that is descriptive, keyword-rich, brandable and meaningful. Radix is thus making the Internet more organized and business-friendly.

- Radix has partnered with 200+ registrars such as GoDaddy and BigRock to sell its domains to end-users all over the world.

QUICK STATS:

- Founded: 2012

- Total strength: 65+

- Total investment: US$ 45 Million

- Operationally profitable: Yes

- Annual growth rate: 35%+

JOB DESCRIPTION :

- Radix is looking for a Content Marketing Associate, a wizard who- ll identify business goals and the marketing means to those ends.

- As a Content Marketing Associate, you will coordinate with editorial teams on content creation, target audiences, keywords, and best performing content forms. Additionally, you will also consult on search engine optimization and data analytics.

WHAT IS THE JOB LIKE ?

- Develop a clear strategy and vision for content campaigns

- Supervise the work done by a team of freelance contributors by proofreading as well as editing spelling and grammar

- Work with the graphic design team to ensure a user-friendly experience and manage busy workloads keeping in mind deadlines

- Analyze data and analytics, and seek to increase reader engagement and retention

- Own the blog calendar and publication process

- Knowledge of SEO and industry best practices is imperative

- Collaborate with co-workers and come up with fresh, creative content ideas; keeping our audience in mind

- Organize, modify, and update existing content along with verifying its authenticity and information

YOUR ADDITIONAL RESPONSIBILITIES WILL INCLUDE :

- Contributing to the development of brand marketing campaigns including podcast, videos and digital displays

- Building new relationships with external partners for guest-blogging opportunities or co-marketing campaigns

- Optimizing the content produced for product conversion, including landing pages and other web pages

- Creating content for thought leadership articles, ebooks, editorials, product comparisons, reviews etc and ensuring that the content meets the style guide

- Working with creative and operations resources to execute campaign content and promotion

- Working with and manage agency relationships as needed

- Planning and tracking campaign progress and execution

- Reporting on campaign performance and providing insights around content creation and lead/users acquisition.

WHAT ARE WE LOOKING FOR ?

- Bachelor's Degree in Journalism, English or a related field

- You have 1-2 years of relevant experience in content writing and content marketing

- Excellent communication skills and a strong command over the English language

- Prior work experience in writing, copy editing and proofreading

- High level of interest in reading and sharing thoughts on tech products

- Immaculate written and oral communication skills and a penchant for marketing internet products

- Extremely organised and detail-oriented

- You have a flair for ideating and building creative content

- Knowledge of Wordpress, Google Analytics, and SEMRush is good to have

- You have the gift of the gab and strong interpersonal skills; and are very hands on

- You are passionate about building a brand in the consumer web space

- You are active on social media and familiar with social media tools and marketing processes

BENEFITS AND PERKS :

- We at Radix love our jobs. And it's no surprise - we get to work on exciting, new projects with some of the best brains in the industry, and that too in a vibrant atmosphere that is designed to be comfortable and conducive for our personal and professional growth.

- And Radix goes the extra mile to make you feel at home. We offer benefits ranging from affordable catered meals and even snacks on the house. Our workspaces are welcoming and fun, complete with bean bag chairs and ping pong tables. You are free to wear what makes you comfortable and choose the hours you keep, as a team. Oh, and we- ve got your family covered too, with great health insurance plans and other benefits.

Add a note
Something suspicious?
Report this job posting.