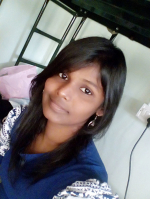 13/08
Vinothini
Associate - Talent Acquisition at Chargebee Technologies
Views:2526 Applications:362 Rec. Actions:Recruiter Actions:163
Chargebee - Customer Solutions Professional (2-6 yrs)
Chargebee is redefining the way businesses think about the relationships that power their subscriptions

The relationships that power subscriptions might be built in Sales, and nurtured in Support, but they are reinforced in the everyday interactions that a customer has with a business.

Chargebee is a subscription management and billing solution that makes these everyday interactions effortless, so businesses can be certain that every aspect of their customer experience, big and small, lives up to their vision.

The world is responding. Chargebee enables 5,000 customers in 50+ countries around the world, processing over 700 million dollars in transactions every year. Chargebee is helping businesses give their users a subscription experience they can be proud of.

- We need engineers who can build solutions

- Part subscription billing educators, part recurring revenue consultants, and part Chargebee advocates, the Support team bridges the gap between the solution that Chargebee is building and the problem that the world is solving with it.

- Bringing a technical understanding to support, customer solution engineers help customers get the most value can they can out of Chargebee.

- Building a solution means

- Asking incisive questions

- So we- re attacking the root of a problem. Going deep so that we know the - why- behind every request means we- re never offering perfunctory solutions.

- Being proactive about problems

- So our solutions work in the long term. With the understanding that businesses are ever evolving, solving problems so that solutions work six or twelve months down the line means seeing more than a few steps ahead.

- And never saying no

- So our customers are always happy. It's not always the case that Chargebee can address a problem directly, but that doesn- t mean a solution isn- t possible with a little bit of creativity.

- We hope you- ve got

- Being a customer solution engineer for Chargebee means working with customers from the get-go - understanding their pain points, offering business intelligence, and customizing Chargebee to suit their every need. You will need:

- An impeccable set of communication skills.

- People skills. You will be a customer's window into Chargebee.

- The patience to see a problem through, even if a solution doesn- t always seem possible.

- The flexibility to make sure there's always someone for a customer to chat with.

- Between two and five years of experience either building a product or working in customer support.

- On a typical day you might

- Grapple with support tickets

- Primarily, the support team helps customers get all that they can out of Chargebee. Working on support means developing a deep understanding of a customer's problems and pain points and expressing complete mastery over Chargebee so it can be tailored to suit the need of the hour.

- Engage with the product and engineering teams

- The support team works closely with the the engineering team and product teams, forwarding requests, feedback on experience, and tweaks to existing features.

- Research new developments in SaaS and SaaS products

- Apart from a command over Chargebee, excellence in support also means developing and maintaining an understanding of the subscription business playing field, including the ins and outs of subscription billing, web APIs, and what it takes to grow an online business.

- Give customer perspective a voice

- Speaking to new and existing customers every day means our support executives develop a unique understanding of how to meet customer need. An insight that is invaluable to engineers building and ideating through new features.

- You will have an opportunity to develop an understanding of online business, to hone your communication skills, and work with a team that never gives up on a customer, ever.
Add a note
Something suspicious?
Report this job posting.