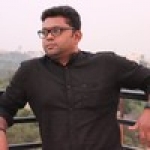 29/08
Thouti Krishnam Raju
TAG - Specialist at Ceipal Solutions Pvt Ltd
Views:58 Applications:23 Rec. Actions:Recruiter Actions:23
CEIPAL - Product Marketer (2-6 yrs)
Together we drive the HCM software revolution!

Imagine working on the front lines of innovation! As one of the industry's youngest, leading software development company, our technology depends on finding and hiring the best and the brightest employees.

CEIPAL Corp - Where Successful People Want to Work

We are a company comprised of people who work hard, deliver outstanding results and maintain a sense of humor during even the most challenging times. At CEIPAL, our core values are not just words on the back of your badge. Given the criticality of this role to CEIPAL's success, this philosophy starts with you. As the driving force behind CEIPAL's Content, you would have to apply both conventional & unconventional methods to steer and successfully establish CEIPAL's thought leadership across geographies, in the best, most creative & fastest way possible.

Responsibilities:

- Collaborate with global marketing teams to identify, create and deliver compelling content across owned and earned channels that is data-driven and adds value for CEIPAL

- Lead global initiatives to organize and structure our marketing content across multiple geographies to identify strengths and gaps

- Test, revise, and optimize content to help determine the most successful formulas

- Lead the team in delivering SEO and social media initiatives that drive user engagement and help them move further down the funnel

- Develop programs and monitor trends, issues, and topics that matter to CEIPAL around the world

- Work with product and engineering teams to optimize CEIPAL's website performance to maximize SEO exposure

- Stay up to date on best practices in organic content marketing, including SEO, social media, and other channels

- Work with and inspire a global, in-house team of industry experts, evangelists, marketers, writers, and designers

- Work with the analytics team to monitor and optimize performance

- Influence decision-making across a matrixed organization

- Clearly communicate strategy, findings, and recommendations to the CEIPAL marketing leadership team

You- ll gain everything you want in this role, but before you do, here are a few prerequisites:

- Storyteller with strong visual and written communication skills and the ability to present complex information simply with a relatable, human touch.

- Demonstrated experience in setting and driving on-brand content strategies and working cross-functionally to deliver the final product

- Familiar with SEO strategy and fluent in content categorization and structure, distribution and measurement

- Familiar with front-end languages (HTML, CSS) and the ability to work with technical teams to prioritize and execute initiatives that drive on-site performance for user engagement

- A critical thinker with exceptional analytical skills and a proven ability to turn high-level business requirements into programs that drive user engagement

- Excel at cross-group collaboration and problem-solving

- Demonstrated ability to manage multiple programs and priorities

- Innate ability to understand when to apply highly-advanced versus practical solutions

- Superior written and verbal communication skills

- Ability to listen to, learn from, and teach content marketing across the organization

- A passion for wanting to help make CEIPAL the most impactful development in technology for years to come

We plan to keep our employees happy, some of the perks:

- High Impact work - You own the complete Launch footprint of the company

- Young, dynamic & fun-loving colleagues, good people to work with

- High flexibility & Autonomy

- Regular Team Lunches/Outings or Fun activities

- Opportunity to learn & add value to a company on an exponential growth curve

Job Location: Hyderabad, India.

About CEIPAL:

Over the past 3 years, CEIPAL has emerged as one of the most promising SaaS companies across the globe in HCM (Human Capital Management) Domain. With over 1000+ clients globally, we are fast becoming the de-facto platform for Recruitment and Staffing firms in the US & across the globe.

Some key stats about the business:

- Serving ~14,000 recruiters a day across the globe

- Supporting ~50,000 employees.

- With three offices, headquartered in Rochester, NY, biggest office in Hyderabad & a Support Center in Noida.

- 165 Employees globally & growing at a rapid pace.

- Well capitalized with funding from multiple, reputed PE firms across North America.
Add a note
Something suspicious?
Report this job posting.