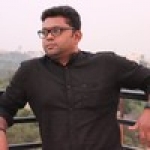 29/08
Thouti Krishnam Raju
TAG - Specialist at Ceipal Solutions Pvt Ltd
Views:147 Applications:36 Rec. Actions:Recruiter Actions:26
CEIPAL - Event Manager (2-8 yrs)
Together we drive the HCM software revolution! Imagine working on the front lines of innovation! As one of the industry's youngest, leading software development company, our technology depends on finding and hiring the best and the brightest employees.

CEIPAL Corp - Where Successful People Want to Work We are a company comprised of people who work hard, deliver outstanding results and maintain a sense of humor during even the most challenging times. At CEIPAL, our core values are not just words on the back of your badge. Given the criticality of this role to CEIPAL's success, this philosophy starts with you.

You are someone who will amplify CEIPAL's products and solutions- go-to-market strategy globally, in multiple countries, including the United States, the United Kingdom, and India-, across multiple event types. You will oversee CEIPAL's global event planning and execution with trade shows, lunch and learns, policy briefings, social engagements, and other events for our corporate and advocacy clients. You will be responsible for event KPIs and reporting event success across the marketing organization.

Responsibilities :

- Develop and execute a high-level event strategy with multiple stakeholder buy-in

- Handle end-to-end logistics of CEIPAL's presence at own events, trade shows, partner events, lunch and learns, etc. by working closely with vendors, venues, clients, and partners

- Plan and execute niche events, such as dinners and happy hours, by managing logistics such as venue coordination; invite, registrant, and attendee lists; communications; and registration landing pages

- Plan, organize and manage events globally, including the United States, United Kingdom, and India

- Work closely with the sales team on event staffing, goals, and expectations, including reviewing event pre-briefs and post-briefs

- Manage contracts with partners, vendors, and venues

- Oversee swag and display execution, ordering, shipments, distribution, etc

- Collaborate across marketing and communications teams to create event deliverables such as promotional ads, signage, and landing pages

- Track event expenditures to optimize CEIPAL budget

- Lead overall audience acquisition strategy and employ new tactics for attracting audiences

- Create targeted invitation lists tailored to the topic at hand

- Manage internal audience databases

- Track event registrants, provide regular reports on audience metrics and ensure that attendee goals are being met

- Assist with memberships & partnerships and leverage them to develop events as needed

- Potentially photograph and videotape events for social promotion

You- ll gain everything you want in this role, but before you do, here are a few prerequisites:

- Highly Flexible and able to deal with ongoing changes while driving to successful results

- Energetic, passionate, and enthusiastic

- Creative and Innovative - Keen Eye for Details

- Excellent Time Management Skills

- Great Leadership Skills

- Excellent Negotiation and project management Skills

- Ability to create, adhere to, and manage event budgets and finances

- Experience planning, organizing, and executing international events including (but not limited to) USA, United Kingdom, and India

We plan to keep our employees happy, some of the perks:

- High Impact work - You own the complete Event footprint of the company

- Opportunities to travel to multiple geographies & the ensuing industry exposure

- Young, dynamic & fun-loving colleagues, good people to work with

- High flexibility & Autonomy

- Regular Team Lunches/Outings or Fun activities

- Opportunity to learn & add value to a company on an exponential growth curve

Job Location: Hyderabad, India.

The role would be reporting to Peter Velikin, Vice President of Marketing (https://www.linkedin.com/in/petervelikin/- )

About CEIPAL: Over the past 3 years, CEIPAL has emerged as one of the most promising SaaS companies across the globe in HCM (Human Capital Management) Domain. With over 1200+ clients globally, we are fast becoming the de-facto platform for Recruitment and Staffing firms in the US & across the globe.

Some key stats about the business:

- Serving ~14,000 recruiters a day across the globe

- Supporting ~50,000 employees.

- With three offices, headquartered in Rochester, NY, biggest office in Hyderabad & a Support Center in Noida.

- 150 Employees globally & growing at a rapid pace.

- Well capitalized with funding from multiple, reputed PE firms across North America.
Add a note
Something suspicious?
Report this job posting.