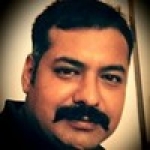 07/11
Ritesh Kumar Bhatia
Assistant Vice President- HR at BOB Financial Solutions Limited
Views:326 Applications:92 Rec. Actions:Recruiter Actions:0
BoB Financial Solutions - Regional Sales Manager - Telesales (10-12 yrs)
- The RSM - Tele Sales will be responsible for setting up new capabilities, Partnerships and programs to help the Indian Customers find the right card suiting their needs. Along with this, the role would require the candidate to develop and ensure execution of effective tele-sales strategies for over achieving sales targets for card products, personal loans or any other retail financial services or products offered by BFSL.
- The role would also be responsible for the development of sound regional and local market sales/lead fulfillment strategies, which ensure optimum penetration in the desired segments in line with the national digital & tele- sales strategy, Thus in turn increasing the sales number/quota of the organization.

- Develop a robust, diligent and compliant lead fulfillment & referral strategy.

- Constantly creating proposal for new leads, promotions, offer and closure of deals.

- Work closely with the sales, product & marketing teams to optimize productivity through product/channel mix.

- Responsible for ensuring month on month achievement of the allocated sales targets.

- Monitoring and optimization of engagement in online and offline marketing campaigns (like emails, SMS, Social media, Missed call alerts, targeting lead generation, nurturing, subscription and customer management) and ensuring efficient management of the leads generated by all these campaigns.

- Build an active people management plan including creative innovative incentive structures, retention strategies to hire and retain the top talent and to motivate, train and inspire the staff.

- Constantly develop and manage strategic alliances with online aggregators and digital partners.

- Responsible for revenue generation through digital sales by liaising with the Digital Marketing strategies being followed like social media campaigns, emailers, SMS alerts etc.

- Focus on controlling/lowering the cost of acquisition.

- Optimize sourcing mix to focus on profitable segments, lowering delinquency & Losses arising from fraud.

- Responsible for manpower planning, training, tracking efficiency, and evaluation of the DSA (Digital & non digital).

- Establish and manage strong business relationships with internal stakeholders (Risk, Credits, Backend, Product, Finance, etc.).

- Educate the team to ensure their constant focus on yield through product mix between cards and personal loans product collection through cross sell & processing fees.

- Drive productivity of sales teams, taking adequate measures to enhance through interventions like sales trainings, soft skills training and functional training.

Job specific skills

Applicants should possess the following attributes:

- Strong consumer financial services sales experience in leading a large team.

- Ability and willingness to establish & build businesses from scratch, thus having an entrepreneurial steak becomes preferable.

- Comfort with ambiguity and laying the foundation for the organization in both Digital and Tele Sales Verticals.

- Ability to work in the ever evolving digital environment in the context of a keeping abreast with changing online & offline mediums, with a strong passion for success.

- Strong analytical, problem solving and decision making skills with the ability to synthesize data received from online/offline campaigns (like emails/SMS/missed calls/Social Media/Raw Data for Tele-callers etc.) and convert them into winning strategies to enhance sales figures.

- Provide Leadership, Manage and motivate both the tele-sales and digital sales team to ensure employee satisfaction in the region.

- Exceptional ability to think strategically, Challenging the status quo to deliver innovative ideas, thus resulting in competitive advantage and commercial performance.

- Excellent communication and interpersonal skills with a high regards for hierarchy.
Add a note
Something suspicious?
Report this job posting.