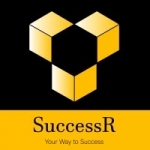 20/11
Tejasvini Pise
Corporate Acquisition Head at SuccessR HR Tech Pvt Ltd
Views:24 Applications:24 Rec. Actions:Recruiter Actions:1
Assistant General Manager - Sales - Online Retail Business (8-10 yrs)
Job Description :

- Maintain store staff by recruiting, selecting, orienting, and training employees.

- Maintain store staff job results by coaching, counseling, and disciplining employees; planning, monitoring, and appraising job results. - Mentoring ASM/ADM for next level.

- Train, guide, supervise and develop the sales force to achieve the target. Motivating staff & co-ordinating with HR team for Engagement activities for store.

- Ensure Grooming standards and discipline for Promoters/Brand staff in store
- Delineate and achieve financial objectives by achieving an annual budget,scheduling expenditures,analyzing variances,initiating corrective actions.

- Plan and achieve margins to achieve bottom line.

- Communicates, drives and utilizes key reporting tools and monthly hindsight to drive business and implement plans to improve store performance

- Ensure prevalence of high degree of hygiene, staff grooming, customer satisfaction and VM standards in the given store.

- Develop system to control pilferage / shoplifting and ensure adherence with the same.

- Develop and maintain suitable measures and systems for controlling stock control, to ensure sufficient levels of stock at minimum stock holding and to keep write-off stock to a minimum.

- Ensure adherence to all SOPs in the stores.

- Self driven audits for store to ensure readiness of store for any & every surprise audits.

- Ensure all Food compliances and Safety standards are adhered to for Stores with Live Bakeries

- Consistently performs, leads by example and coaches staff to exemplify the customer engagement behaviors

- Drives Customer Loyalty programs

- Connect with every customer
- Respond to customers immediate needs
- Explore customers needs and demonstrate products
- Conducts regular Customer Connect activities in store for generating excitement

- Maintain awareness of market trends in the retail industry, understanding forthcoming customer initiatives and monitoring what local competitors are doing; Competition mapping/benchmarking activities.

- Coordinate with marketing departments at state office for implementing marketing strategies.
- Formulates pricing policies by reviewing merchandising activities
- Determining additional needed sales promotion,proposing clearance sales
- Develop new avenues for promoting business.

- Prior experience is mandatory
Add a note
Something suspicious?
Report this job posting.